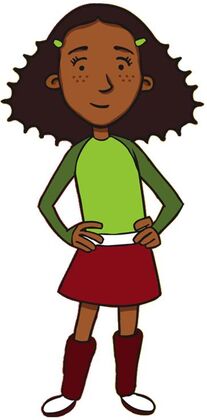 Jodie is the great-granddaughter of Joe.
Personality
Edit
She can be described as a bossy, aggressive, popular mean girl who is obsessed with fashion and cheerleading. She is good friends with Sam and Joe, but despises Fred. She is a huge drama queen. She is the owner of a locket which belonged to Joe's mother. He has a relationship with Fred.
She is the only girl that wears a skirt.
She has narrated Lewis and Clark (and Jodie and Samantha and Freddi), Jinga all the way, and The Caveman Castrophe.
She was voiced by Sarah Gadon for Volumes 1 and 2. she was in; Tajja Isen provided her voice later on in in Volume 3.
She likes the Backstreet Boys, as revealed in The High and the Flighty.
Jodie is one of the six main characters in the series.
She is part Indian, as revealed in Dude, Where's My Karma?
In the books, she has blonde hair tied in a ponytail and her name was Joanie.
Appearances
Edit
2105
Sam Samurai
Lewis and Clark...and Jodie, Freddi and Samantha
Hey Kid, Want to Buy a Bridge?
The Seven Blunders of the World (mentioned)
Jinga All the Way
Dude, Where's My Karma (mentioned)
The Caveman Castrophe
Nightmare on Joe's Street
Breaking the Codex
The High and the Flighty
Harem Scare'em
Plaid to the Bone
"When I turned 10, I got a book from my Uncle. It's been past down in my family for centurys. In fact, about one century ago, it belonged to my great grandfather: YOU!"
Relatives
Edit